Ripple Affect is an ever-evolving vision where we aspire to include a range of health and professional services to clients and fellow professionals. At this time Reflexology and training for mental health practitioners are part of this vision.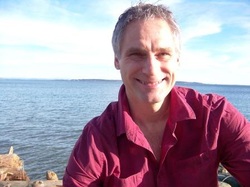 Vincent J. Cybulski, RCRT
Registered Canadian Reflexology Therapist
Registered member of
Reflexology Association of Canada (RAC)
and
RAC BC Chapter

Please call 250-412-5921 (press 2) or send an email to vincent@arippleaffect.comReflexology
is a natural healing art based on the principle that there are reflexes in the feet, hands, and ears, which correspond to every part, gland, and organ of the body. Through application of non-evasive systematic and precise pressure on these reflexes, reflexology relieves tension, improves circulation, and helps promote the natural function of the related areas of the body.
Benefits:
Relaxation and release of tension; Improves circulation;
Helps normalize body naturally without adverse side effects
Availability


I have early and late weekend evening appointments, but this is subject to change so please contact me to see what we can arrange. I offer home visits or party bookings at your location.
Rates


Hourly rates for individuals, couples and groups are set according to BC reflexology standards. I provide a reduced fee of 15 percent when a package of five sessions is purchased together. I also offer a 15 percent discount when you recommend a friend and I complete a session with them. If your location is outside of Victoria, fuel charges may apply.
Payment


I appreciate that payment be made in full by either cash or cheque at the end of each session. The full fee will be applied to missed or cancelled appointments with less than 24 hours' notice.
Length of Treatment


An individual session is 90 minutes in length. This includes time for a treatment and your feedback on the experience. If it is your first session, I schedule 2 hours so that we can complete an intake.
Contact

Please call 250-412-5921 (press 2) or send an email to vincent@arippleaffect.com
---